Jeweller Icon
| | | |
| --- | --- | --- |
| | | |
| | |
| --- | --- |
| Jeweller Icon | |

Icon sizes: 256x256, 128x128, 48x48, 32x32, 24x24, 20x20, 16x16, 512x512
File formats: ICO, GIF, PNG, BMP


Purchase entire Large Crystal Icons now!
View Large Crystal Icons now!
Download demo icons
Readily Available Chess Icons
Standard Chess Icons are instantly available to be used on any on-line site dedicated to the game of chess.

Designing a Web site for a chess community or an online portal for chess fans? Online chess portals gained a huge popularity among online users. Hundreds of grandmasters, amateur players and chess enthusiasts are ready for a quick round of blitz or a tournament on many Web sites. Create a global chess project, pay due respect to the history of chess by archiving historical chess games or take your local chess club online without spending time crafting every chess figure!

Standard Chess Icons are instantly available to be used on any Web project dedicated to the game of chess. For under $50, you will get every black and white chess figure designed by professional artists. All figures come in flat and three-dimensional space, and appear as classic or modern as you need. And you get the chess board, too! Why spending time and money to draw your own chess graphics while the entire set is available for instant use?

Developing chess software for PC, MAC or mobile platform? A single order will take away the hassle of designing or outsourcing your graphics. Available in a variety of formats for various platforms, Standard Chess Icons can be readily used on PC, Mac and PDA devices as well as any other desktop or mobile computer. Easily recognizable even at smaller sizes of 16x16 pixels, Standard Chess Icons can be printed poster-size or displayed on high-resolution screens in their maximum resolution of 256x256 pixels. If you are developing software, you can scale the board and figures smoothly in small increments: Standard Chess Icons come in sizes of 16x16, 20x20, 22x22, 24x24, 32x32, 40x40, 44x44, 48x48, 64x64 and 256x256 pixels. All images come in 32-bit True Color and 256-color variants. The icons are supplied in ICO, PNG, GIF, and BMP formats.

Need the entire set of chess icons? Visit standard-icons.com to instantly preview chess icons!


Individual Ready Icons
You can buy individual icons to suit your needs. Each icon is $1 when purchased individually.
Icon Usage Agreement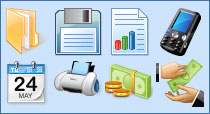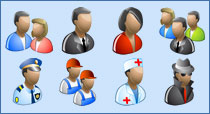 Large Weather Icons
depict a number of weather conditions that are common for software, weather Web sites, and mobile gadgets. The images are available in all resolutions standard to Windows, Mac OS, and mobile platforms. The biggest versions are huge 512x512 pixel images with vector sources in Adobe Illustrator (.ai) format easily available and ready to be printed or used in presentations in highest quality.
SibCode Medical Icon Library is a fantastic set of images that covers most of the typical medicine-related software needs. The choice of professionals at a reasonable price!
develop chess games and Web sites faster with
Standard Chess Icons
! All white and black figures are available as 2D and 3D images, the graphics for timer and chess board are also present.
Releasing a tool for system administrators, making a network application or developing a Web-based log file analyzer? Enhance any software with a pack of
Standard Admin Icons
by Aha-Soft!
Give your Web application, database or software a unique, attractive appearance with a shiny new set of icons.
Plastic Toolbar Icons
are carefully designed and hand-crafted in each of the provided sizes.