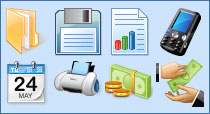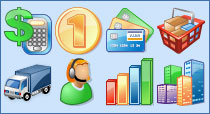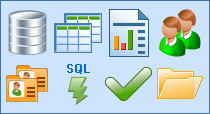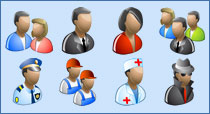 Icon Editor
IconLover is an icon editor. It allows you to design and edit all kinds of graphics required in the software development cycle, including icons, static and animated cursors and interface elements - all these kinds of graphics can now be designed in a single application.
Vista Toolbar Icons
will give a new twist to your GUI replacing the standard icons with fine-looking stock icons in Vista style. The icons have vibrant colors and smooth edges.
Large Weather Icons
depict a number of weather conditions typical in software, weather portals, and mobile gadgets. The images are supplied in all resolutions standard to Windows, Mac OS, and mobile devices. The largest versions are huge 512x512 pixel icons with vector sources in Adobe Illustrator (.ai) format easily affordable and ready to be printed or used in presentations in highest resolution.

Refine an accounting project or bookkeeper software with appealing graphics.
Accounting Development Icons
depict numerous concepts and symbols associated with accounting and bookkeeping, such as currencies, financial symbols, files, customers, and more.
Create online and printed matters of transport infrastructure.
Standard Transport Icons
are drawn in four angles, come in a variety of sizes and resolutions, and are available as 3D vector models for clear high-resolution printing.
Standard Business Icons
is a library of great-looking royalty-free icons for use in software and on websites. Icons come in such fields as Money, Business, Reports, Finances and Transport.